If you're here, you already know the value of SMS message marketing– but it's time to take your text message campaigns into the future. 
In this article, we're going to show you (with thumbnails and examples) how you can use a website called Copy.ai to launch your SMS campaigns into the bleeding edge of what's possible and crush your competitors with the power of Artificial Intelligence (AI). 
But don't be afraid– it will be dead simple and super affordable. Let us introduce you to your new secret weapon, the robust and easy-to-use platform known as Copy.ai. 
Wait, Can I Really Trust AI?
The short answer is yes. We'll show you how with real screenshots that will give you an undeniable proof. Trust us, we were skeptical at first too. But now, we'll never go back. 
The long answer is that AI is pushing digital marketing into a new era. In a recent study by trueNorth some pretty staggering statistics were revealed.
80% of tech leaders said that artificial intelligence boosts productivity, and 61% of business marketers in the study said that AI is the most important new aspect of their digital marketing strategy. To cap that off, 83% of early adopters of AI report that they've already achieved powerful results with an increase of 30-50% in some areas of their marketing. 
If you can adopt the simple use of AI now, you won't be playing catch-up in a year or two (like your competitors). 
The tool that can help you the most, with the lowest barrier of entry, and the most opportunity for a return on investment is Copy.ai. 
Why Copy.ai is Amazing
First, a quick primer. Copy.ai is a website that focuses on creating content through deep learning and artificial intelligence. It generates amazing, written copy– that sounds real– in more than 30 languages. It really has to be experienced to be believed. 
By using Copy.ai you're able to generate a literally unlimited number of headlines, content, ad copy, and more. 
There are 50+ templates that you can use to generate all the relevant, fresh copy you need. It has everything from proven copywriting structures, eCommerce content, blog topic ideas, social media posts, and website copy– and everything in-between. 
It's not generic copy either. It uses a few simple inputs that you provide the algorithm that act as the secret sauce to make sure the copy that's generated is relevant to your topic (you can even add extra ingredients like promotions). 
And trust us, it's accurate. We've stress-tested it to the maximum, taking it as far as entering details about string theory to see if it could handle it, and what it would spit out. Spoiler alert: Copy.ai did not disappoint. It started giving us competent, readable details about coherent sheaves and symplectic manifolds (we have no idea what those things are either, but it sounded like a human was giving us the details). 
While you're generating your copy, you'll likely find some of the exact words you're looking for– but you don't have to stop there. You can take any of the results that were generated by Copy.ai, and generate more results like it. There's really no limit to the amount of relevant, detailed copy you can develop.
As we've explained, Copy.ai is the perfect tool for many of your copywriting needs, but now it's time to harness it for the power of it for your SMS campaigns, with specific use-cases, screenshots, and details.
Hands-on Tutorial and Proof
Now we're going to put our money where our mouth is. We're going to show you (with screenshots) how you can use the tools and templates in Copy.ai to write countless variations of proven ad copy. We'll walk you through the exact templates to start with (the top three), and what details you should feed into the Copy.ai interface.
How many times have you sat for way too long scratching your head, trying to think of the perfect copy for your SMS campaign? And then when you finally wrote and sent it, it tanked. It happens way too often. But the good news is that those days are over. 
By the end of this article, you're going to be able to send better SMS marketing messages than you could have otherwise– and at lightning speeds. Let's get started.
Name Your Project to Get Started
For all of these examples, we're going to instruct you to click on a template on the left-hand side of the Copy.ai website's interface. However, after you click on the template that we instruct you to, you're going to be prompted to enter two things to begin your new 'project', They are:
Project Title:

Give your project a title that makes sense. This will be your campaign's name generally, such as "Auto Insurance Send – March 1"

Relevant Website:

This is optional, but gives you the option to feed a website to Copy.ai that can inform its results. (We're going to skip this part to show you how powerful Copy.ai is by itself.)
Our Examples
Each of the examples we're going to show you have three components. 
Template Name: The first will tell you the name of the Copy.ai template you'll be clicking on the lefthand side of the site's interface. 
Product/Brand Name: Once you give your overall project a name to get started (as mentioned above) Copy.ai will have a field asking you for the product or brand name. This is generally your business name, but you can put a specific product there as well.  
Describe your product: Finally, it will ask you to 'describe your product.' Here's the deal: don't underestimate the power of this tool. Talk to it like a human being that you're explaining your offer to. 
We'll give you specific examples of how we filled out all three of these fields with screenshots of the results just to show you how powerful Copy.ai truly is.
Note: you will need a paid or trial account of Copy.ai to use these tutorials– more information on getting yours at the end of this article. 
Example 1
Copy AI Template: Ad Copy Variants
Subject: Cryptocurrency Sleuths
Describe your product:  A cryptocurrency service that helps you educate yourself on how crypto works and invest with confidence. 
Finding this tool: On the lefthand side of the Copy.ai interface, find the section titled 'Digital Ad Copy', then click on the first entry, which is called 'Ad Copy Variants'. 
Results: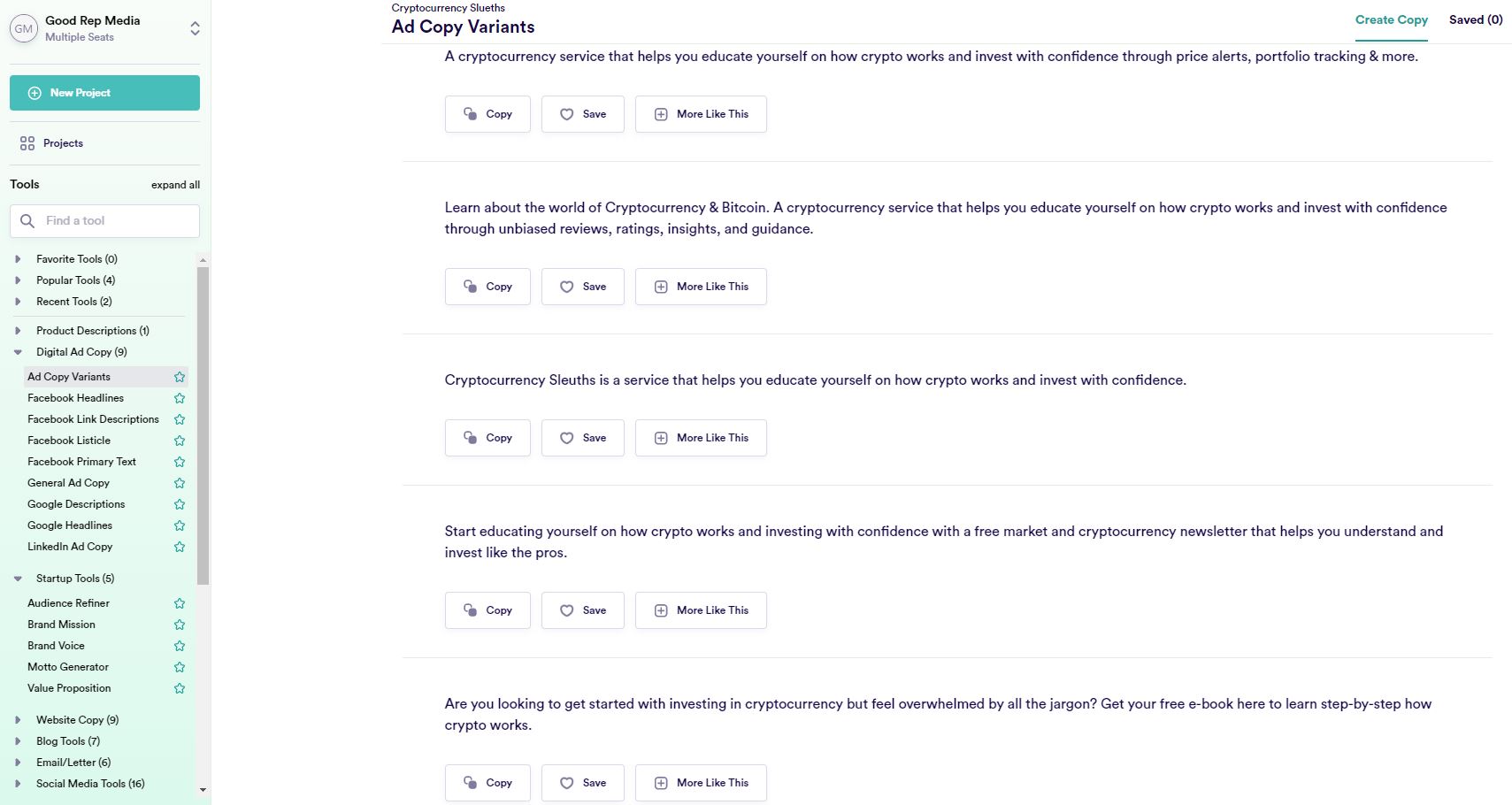 Example 2
Copy AI Template: General Ad Copy
Subject: Auto-Insurance Watchdog
Describe your product:  An auto-insurance service that helps you find the best rates and coverage so you can protect yourself and your family.
Finding this tool: On the lefthand side of the Copy.ai interface, find the section titled 'Digital Ad Copy', then click on the sixth entry, which is called 'General Ad Copy'. 
Results: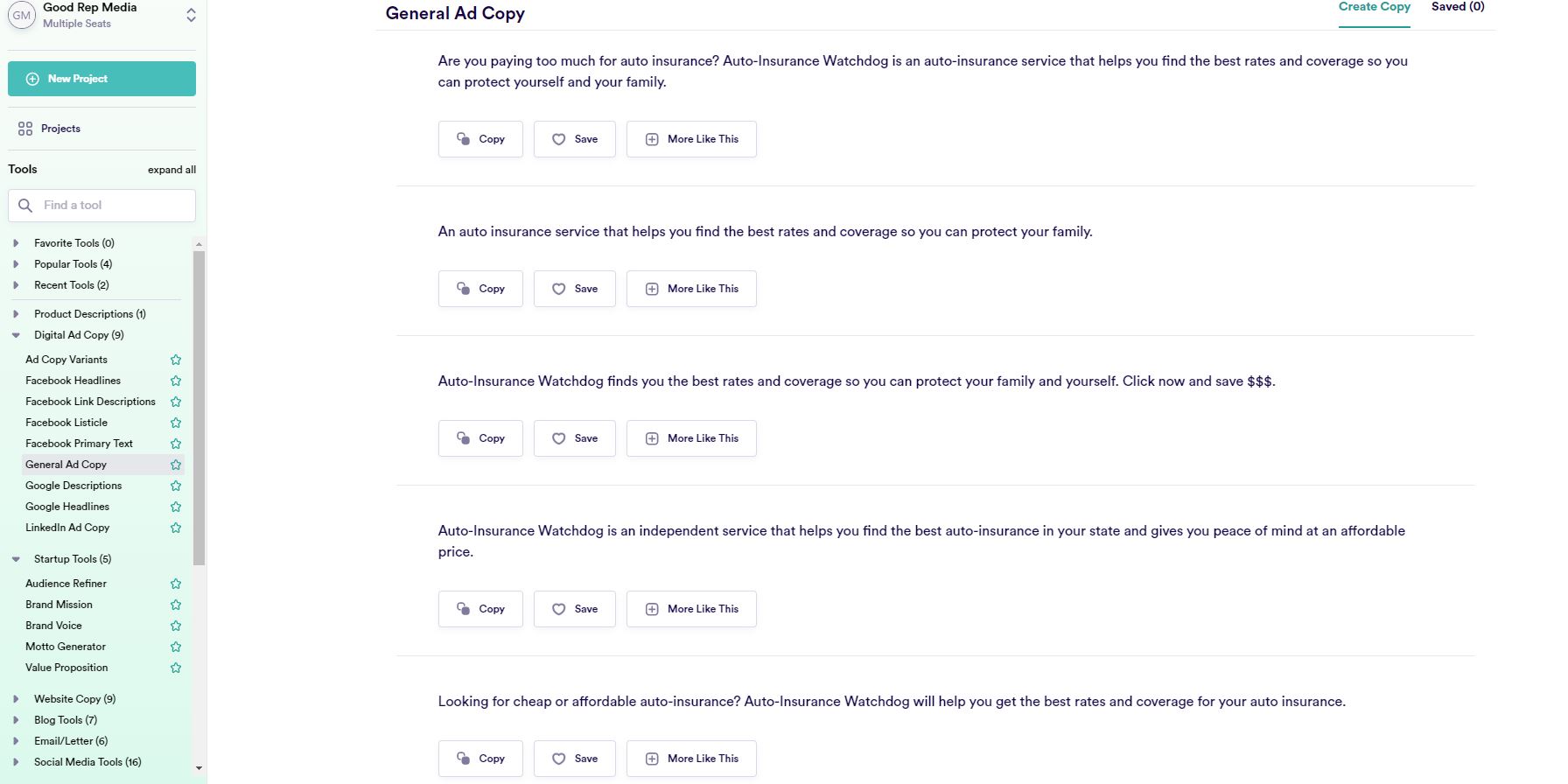 Example 3
Copy AI Template: Catchy Email Subject Lines
Subject: Rent-to-Own-Giants
Describe your product:  A reliable, helpful program that helps people find rent-to-own homes they can afford.  
Finding this tool: On the lefthand side of the Copy.ai interface, find the section titled 'Email/Letter', then click on the second entry, which is called 'Catchy Email Subject Lines'. 
Results: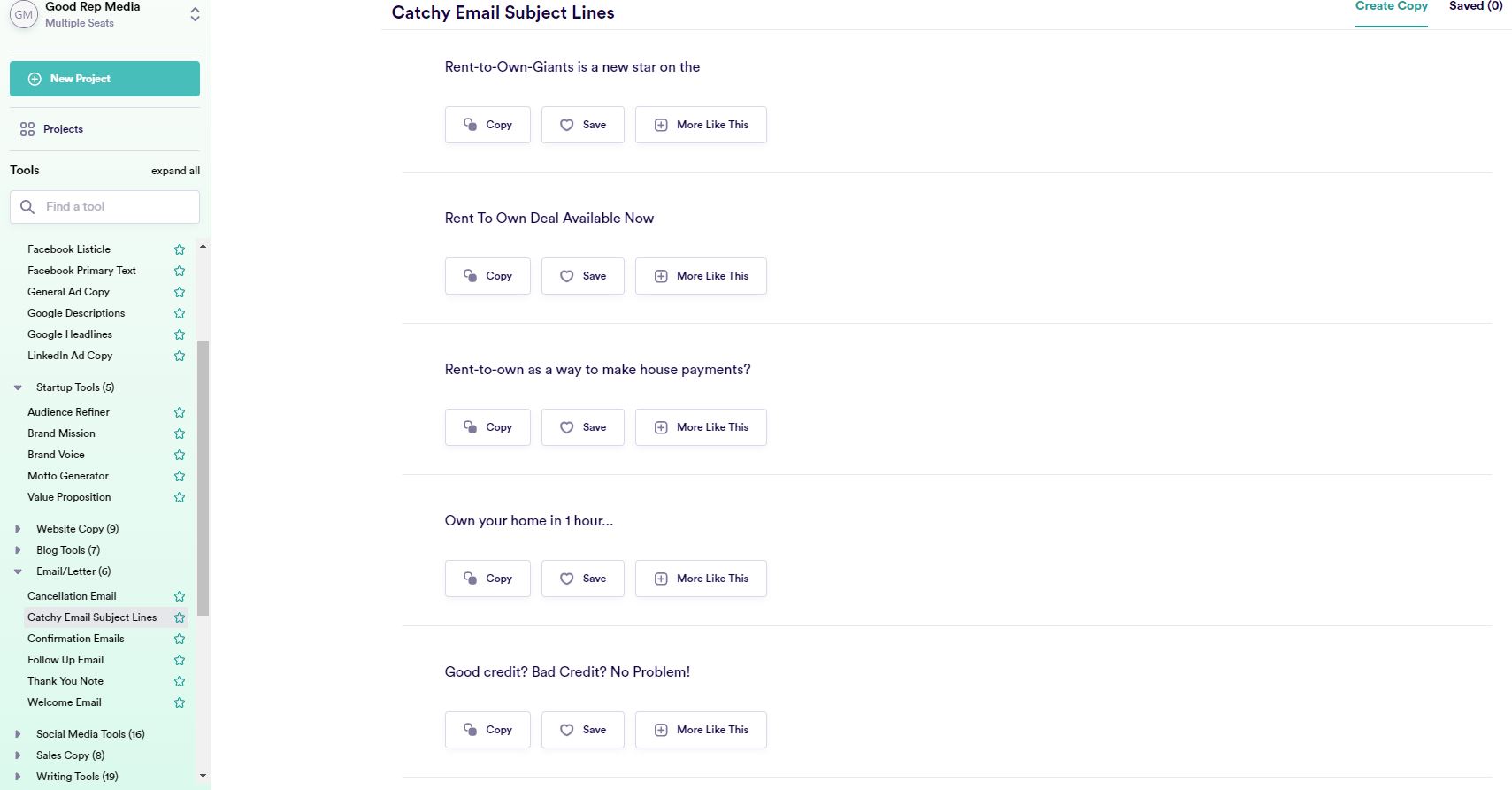 A quick note on this example. We'll be the first the admit that the results were a little wonky– but that's actually a feature, not a bug. Overall, we've seen that these sorts of messages do really well in SMS campaigns. Give it a shot for yourself. 
More Dials to Turn
Want even more options and variations? If so, there's another layer of customization available in the 'Advanced Settings' section, found under the 'Describe your product' field. 
Within this section, you're going to find the ability to change the input and output languages (with 11 options).
Additionally, there's a third option that allows you to change the tone of voice of the copy that's being generated. You can choose from options like friendly, luxurious, relaxed, professional, bold, adventurous, witty, persuasive, and empathetic. These changes in tone of voice will absolutely 
The Best SMS Marketing Company to Harness the Power of AI
TextCalibur is the best tool available for sending SMS campaigns that will get through to your list. Don't risk being flagged as SPAM by a mobile carrier. Use the most cost-effective tool that will get you the best results. 
When you couple TextCaliber with Copy.ai, you're going to solve the common SMS marketing issue of spending far too much time writing copy. Save yourself time, and get better results by using TextCalibur coupled with Copy.ai. 
Start your free, 7-day trial (no credit card required) of Copy.ai here and change your marketing forever.